My reaction when I saw that another
Planet of the Apes
films had been issued was skepticism, derision. When I noted the positive reviews for
Rise of the Planet of the Apes
, I was still not convinced. I reluctantly added it to my Netflix list. I'm glad I did. Despite its outrageous storyline and the one-dimensional portrayal of many of the human characters, the film was riveting and exciting. It is not at all like its early predecessors in the series. I did not see the most recent remake of the original. The plot is fresh.The original was fun, but silly and unconvincing.
Rise...
is deadly serious, and the cast and crew really sell it. James Franco must be given credit for starring in a movie where he must have known he would play second banana to monkeys. John Lithgow and Brian Cox lend their usual solid support. But the real star is the remarkable Andy Serkis, the man behind the chimp, Caesar, whose stare, the smoldering rage behind it, is frightening. Serkis also portrayed Gollum in the
Lord of the Rings
trilogy and
King Kong
, and he made an uncredited appearance on my favorite TV show,
MI5
, during season three. The folks at IMDb rated
Rise...
7.7 out of ten. On a scale of five, I rate it four. Kudos to director Rupert Wyatt in only his second stint at the helm, and screenwriters Rick Jaffa and Amanda Silver. The production crew constituted an army and did a wonderful job. The CGI stuff had such authenticity. Here are pictures of Serkis and Gollum: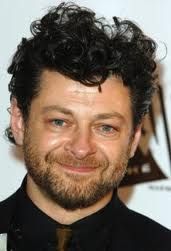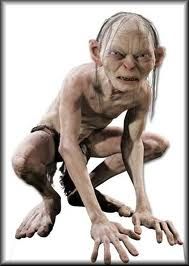 Round Two of the golf season was rather unusual. Although my score improved by eight shots, 92, it was due to several lucky bounces and good putting. I hit twice as many bad shots as good, but when you drop in a couple of 30-footers and a chip shot it makes bad play look much better than it was. Somehow I made two birdies, but I triple-bogied two par threes, my iron-play pathetic. As for my buddy Cuz, he was all over the place and did not crack 100. The floating book shop will re-open tomorrow, if the rain ends in the morning, as forecast.
Read Vic's stories, free:
http://members.tripod.com/vic_fortezza/Literature/